Just a quick update to share the news of advancements made to Qlik Sense with the September 2018 release.
Insight Advisor & Augmented Intelligence
Insight Advisor suggests the best analytics and insights to explore for users within a Qlik Sense application.  This level of augmented intelligence is extended in the Qlik Sense September 2018 release to all users of Qlik Sense Apps, including published apps in streams, to encourage further data exploration across the enterprise.
Advanced Authoring Capabilities
Building upon the Advanced Authoring capabilities delivered in June, this has been further advanced with the addition of high value features specific to building sophisticated data layouts, increasing the speed of application development and improving ease of use.  These include many QlikView like capabilities such as:
Better control over information density within the Qlik Sense client for devices that support touch and mouse input
Default bookmarks for setting initial selection state when applications are opened
The ability to turn off responsiveness of the client for custom sheet sizing
Expression Editor enhancements including direct links to help, restructured function categorisation and improved search capabilities
Visualisation control improvements including conditional show/hide in pivot tables and customisable master measures
Improvements In The Qlik Management Console & Performance
The September release includes another customer requested, key enhancement: the ability to move multiple apps from stream to stream (removing any previous limitations from the Qlik Management Console.) Further, Qlik has made investments to improve performance and stability with upgrades to the open source front-end framework.
Enhanced Mapping
The September 2018 release will also deliver enhanced mapping capabilities, including a new multi-gradient Density Map Layer that is very useful when mapping data on a highly localised and detailed level. The Density Map Layer is a multi-colour gradient background where the colour intensity depends on the weight and closeness of points.  This map layer is useful for mapping data such as: crime statistics, house values, etc.  The release does not stop there with other general mapping improvements around additional controls and data inputs.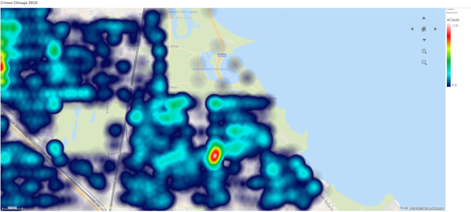 Connectivity
Connectivity has been continued with the addition of MS Azure DB and Jira connectors, while also delivering enhanced security with LDAP authentication to the integrated connector to Presto.
Enterprise Mobile Security
Mobile security requirements of large enterprise deployments are also addressed, delivering full support for AirWatch EMM, as AirWatch is among the fastest growing EMM vendors!
Strengthened Qlik NPrinting Reporting Capabilities
Qlik NPrinting is used for scheduled reporting.  Improvements have been made around administration, expanded authoring, and improved security for report consumption.  For example, you can now import users/roles from an LDAP source and, if desired, you can substitute the TLS Cipher suite.  In addition, Qlik NPrinting now has session expiration log out, output of reports in .xlsm formats, and report level password protection. 
To learn more about Qlik business analytics and how Qlik Sense may be applicable to your organisation, contact Inside Info.