Dresner's 2017 Location Intelligence Market Study, part of the Wisdom of Crowds® series of research has rated Qlik #1. The Market Study examines the nature of location intelligence and business analytics, exploring user sentiment and perceptions, the nature of current implementations, and plans for the future. To download the full Dresner Location Intelligence Market Study click here. 
According to Howard Dresner, founder and Chief Research Officer of Dresner Advisory Services, "we're in the midst of a profound shift. The impact of location intelligence is clear and organisations should be thinking about how it can be exploited or expanded to improve customer relationships, markets, assets, and more." With the growth in visualisation and the emergence of Internet of Things (loT), location as a key dimension and maps as a means of displaying and navigating insights have become increasingly important. More than half of respondents in the study consider location intelligence "critical" or "very important."
Among 30 topics evaluated, location intelligence ranks 20th, below traditional topics but ahead of "hot" topics including big data and loT. "Location intelligence is becoming mainstream and there's a powerful opportunity to take what's unqiue and compelling about it and bring it to life in an easy, fast, and flexible visual analytics platform," said Anthony Deighton, Qlik CTO and SVP of Products. "We see ourselves as the leader in this space and will continue to make bold moves in building a modern, cloud-ready platform that can grow with customers on their analytics journey."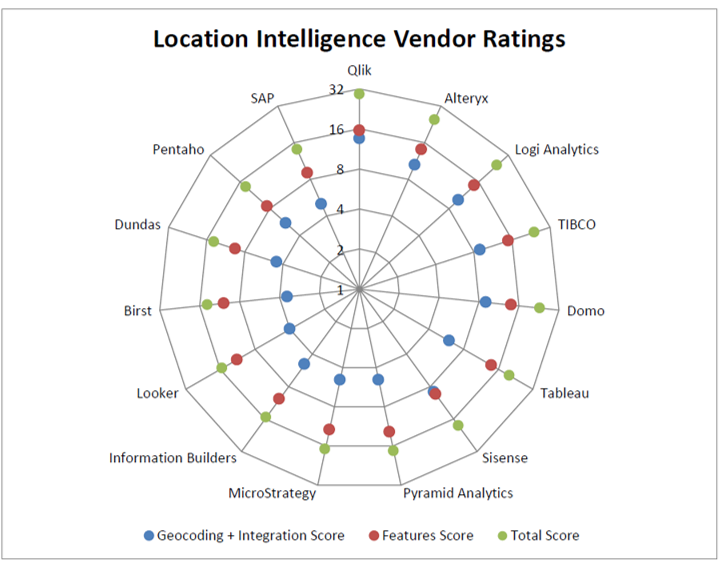 Qlik Delivers Advanced GeoAnalytics
Location data can often be difficult to analyse due to the complexity of geospatial information. Qlik's GeoAnalytics™ will not only ease this challenge for Qlik users, by providing clear and immediate access to intuitive and state-of-the-art location-based analytics and map visualisations, but further enhance the already leading Qlik business intelligence platform. 
Qlik GeoAnalytics™ will allow users to analyse, not just visualise, geographical information alongside non-geographical data in an easy to use way. Qlik Sense and QlikView customers now have the ability to explose hidden geographical relationships, offering greater insight, better decisions, and higher ROI. In essence providing:
A much richer mapping capability alongside Qlik's existing mapping functionality

The ability to easily add a vast array of maps to Qlik apps with automatic geo-data lookup to reveal crucial spatial information & then overlay with different visualisations in drill downs

A way to display thousands of objects with high performance - determine potential store locations, understand customer distribution of sales by postcode, or calculate supply chain delivery times

Insight into patterns not easily interpreted through tables and charts
To download the full Dresner Location Intelligence Report click below.